The Lampasas County Chamber of Commerce Executive Committee and Board of Directors meet the 3rd Tuesday of every month.
The Board of Directors is made up of 20 Chamber members and leaders in the community.
Alexis Thompson
President
Texas Ranch Sales, LLC/Davis Septic
Teresa Thornton
President Elect
Lampasas Dispatch Record
Angie Bayless
Treasurer
Lampasas County Abstract
Cherise Moses
Secretary
Kindred Spa/Independent
Scott Cooley
Past President
Cooley Baltrun, PLLC
Sally Baxter
Fiesta Winery
Bill Bledsoe
Texas Legato Winery
Shane Wilson
Lampasas Independent School District
Jackie Bunce
Community Member
TJ Wright
Blue Springs Pool & Construction, Wright's Fencing/Wright's Green and Clean Services, LLC
Kim Watkins
City of Lampasas
Sami Saucedo
Community Member
Jason Pfaltzgraff
The Nitsche Group
Zach Carnley
Sneed Carnley Funeral Chapel & Cremations
Crosby Green
Petal Peddler Gifts & Floral Design
Myles Haider
Community Member
Elisa Miller
Elisa Grace Boutique
Dr. James Mercer
Heritage Funeral Homes
Lone Star Social Services
Heritage Flower Shop
Tasha Bates
Broken B Erectors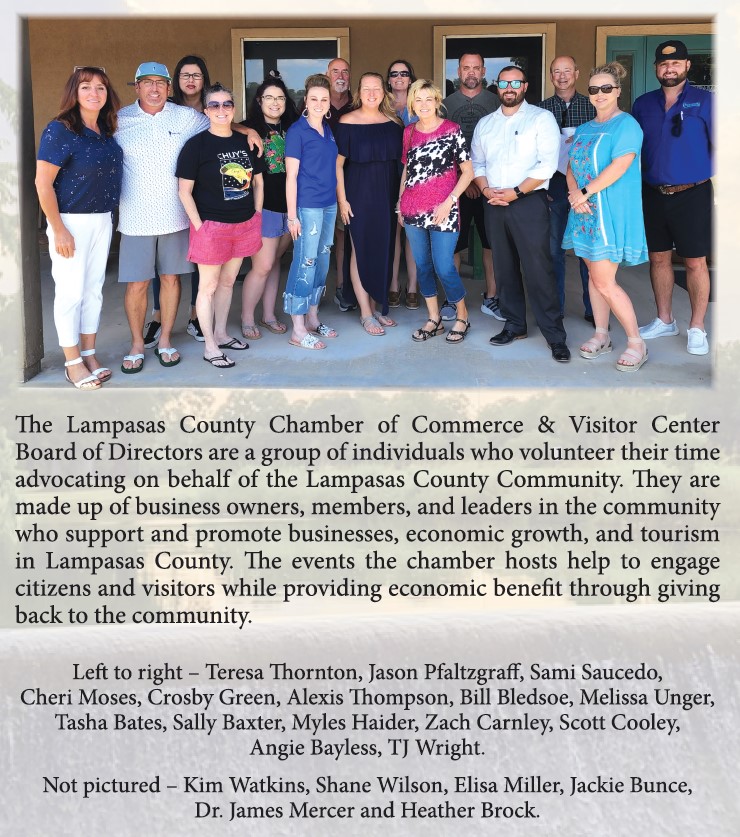 Melissa Unger
Executive Director
Ross Oliver
Membership & Events Executive
Jan Rogers
Office Manager
We would like to thank all the members of the Lampasas County Chamber of Commerce and Visitor Center Foundation Board for their dedication.
Through their support and service to the board, the Chamber has been able to do amazing things for the Lampasas County Community. We will continue to serve Lampasas visitors, citizens and businesses with your mission in mind!
Anna Crawford
Don Windham
David Hamilton
Elke White
Ginger Henderson